Quickly find the stuff you care about.
Beagle is a search tool that ransacks your personal information space to find whatever you're looking for. Beagle can search in many different domains.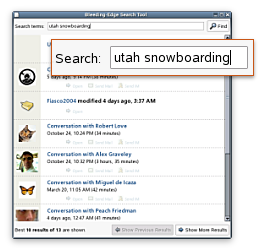 Using Beagle, you can easily find:


documents
emails
web history
IM/IRC conversations
source code
images
music/video files
applications
... and much more
Getting Beagle
The most recent version of Beagle is 0.2.3, which was released on March 17, 2006. Get the latest source tarball from GNOME FTP.
Visit Installing Beagle for source build instructions and links to binary packages (available for most popular distributions). Visit the Getting Started page for instructions on how to get Beagle up and running on your system.
See Beagle Run
Nat Friedman has made a series of short movies that show Beagle in action. (Flash player required.)
Discussing Beagle

Discussions relating to Beagle take place in #dashboard on GIMPnet and on the dashboard-hackers mailing list.
Robert Love has set up Planet Beagle, an aggregator for the blogs of various contributors.
There's also a page where people can post their experience with Beagle.
BeagleP.
Reporting Bugs

Before you report a bug, please check the Troubleshooting section and the bugs already reported to see if you are seeing a known problem. If not, please report the bug in the Beagle component of GNOME Bugzilla.
This page was last modified 10:48, 23 Mar 2006. This page has been accessed 462223 times.